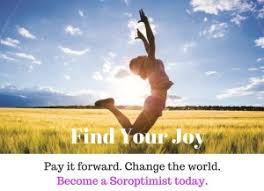 The woman of Soroptimist International of Eugene believe in the dreams of others and in the collective power of working together we can achieve them. It's a gift that women give themselves. The opportunity to help others in an atmosphere of support, friendship and fun.
We share our time and talents to enrich our communities. Together, we will:
Improve the lives of women and girls.
Help women achieve economic equity.
Serve as a global voice for women.
Provide outstanding leadership development opportunities for women.
We look forward to helping you explore the gift of membership.
Benefits of being a member of Soroptimist International of Eugene:
Lifelong friendships.
Local service opportunities.
Networking connections.
Professional growth and mentorship.
Participation in a global organization that supports women's causes.
Leadership opportunities.
N/A