Live Your Dream
The Soroptimist Live Your Dream Awards assists women who provide the primary source of financial support for their families by giving them the resources they need to improve their education, skills and employment prospects.
The Live Your Dream Awards offers three levels of cash awards. Eligible applicants can submit their application between August 1 – November 15. Ultimately, a Live Your Dream Awards finalist has the potential to receive up to $16,000 to help offset any costs associated with their effort to attain higher education, such as tuition costs, purchase books, obtain transportation, or find reliable childcare so she can worry less about how to pay her bills and focus on reaching her dreams.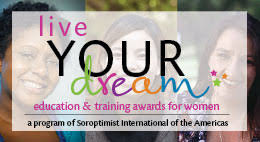 Requirements
In addition to providing the primary financial support for their families, eligible applicants must be enrolled in, or have been accepted to, a vocational/skills training program or an undergraduate degree program and must demonstrate financial need.
Soroptimist International of Eugene usually grants two awards. However, in 2022 three awards were given and in 2023 four awards were given. First place award recipients will be eligible for a regional award, and the regional winner then becomes eligible to receive one of three $10,000 finalist awards.
Soroptimist is helping women reclaim their dreams. If you're eligible, be sure to apply for this award. You will need to complete the application form and two (2) reference forms. Access the application forms here.
N/A